---
17.06.13
IATA Confirms Ryanair Is The World's Favourite Airline
RYANAIR CARRIES MORE INTL PAX THAN EASYJET & BA COMBINED
Ryanair, Europe's only ultra-low cost carrier (ULCC), today (17 June)
welcomed confirmation from IATA that Ryanair remains the world's favourite airline after IATA's 2012 World Airline Transport Statistics showed Ryanair once again carried more international passengers than any other airline.
Ryanair carried 79.6m international passengers last year, almost 29m more than second-placed Lufthansa (50.8m) and 35m more than third-placed EasyJet (44.6m).
Indeed, Ryanair carried more international passengers than:
·
EasyJet and British Airways combined (75.8m)
·
Air France, KLM , Iberia and Alitalia combined (79.3m)
·
Lufthansa and Air Berlin combined (74m)
·
and 8 times more passengers than Irish regional carrier Aer Lingus (9.6m)
Ryanair will carry more than 81.5m passengers this year and celebrated being the world's favourite airline by launching a 100,000 seat sale at prices starting from just €22.99 for travel across its entire European network on Mon, Tues, Wed and Thur in July and August, which are available for booking until midnight Thur, 20 June.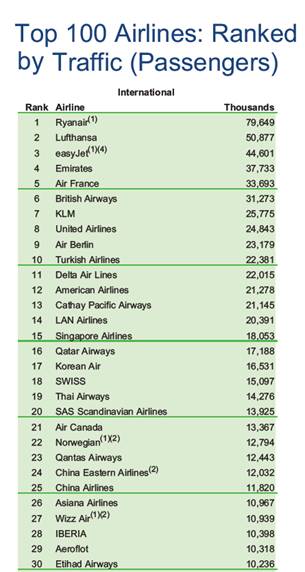 Ryanair's Robin Kiely said:
"IATA has once again confirmed that Ryanair is the world's favourite airline with more international scheduled passengers than any other carrier. Even the combined traffic of EasyJet and BA is still less than Ryanair's total, confirming that passengers can't get enough of Ryanair's guaranteed lowest fares, no fuel surcharges and number one customer service.
To celebrate being the world's favourite airline, we are launching a 100,000 seat sale at prices starting from just €22.99 for travel across Europe in July and August, which must be booked on www.ryanair.com by midnight Thursday, 20th June."
Source: IATA World Air Transport Statistics 2012
---