---
02.07.13
Ryanair Cabin Crew Charity Calendar Deadline Approaching
JUST FOUR WEEKS LEFT TO APPLY & 100,000 REASONS NOT TO MISS OUT
Ryanair, Europe's only ultra-low cost carrier (ULCC), today (2 July) reminded charities that they have just four weeks to submit their applications for Ryanair's 2014 Cabin Crew Charity Calendar partnership. With one month to the application deadline, Ryanair has so far received over 100 applications from charities across Europe who hope to receive the entire sales proceeds (up to €100,000) from the 2014 edition of its world famous Ryanair Cabin Crew Charity Calendar.
Ryanair urged charities to ensure their applications are submitted to Ryanair by emailing ryanaircharitycalendar@ryanair.com before Wednesday, 31st July 2013.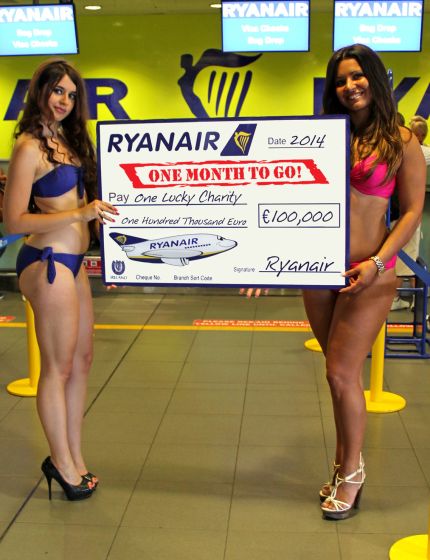 Ryanair's Robin Kiely said:
"Ryanair has been inundated with applications for our 2014 Cabin Crew Charity Calendar Partnership and with just four weeks left for submissions, competition is hotting up. Our 2013 calendar was a huge success with all 10,000 copies snapped up within weeks of the launch, raising €100,000 for the TVN Foundation in Poland.
The deadline for prospective partners for Ryanair's 2014 calendar is fast approaching with only one month left to go and interested charities have until Wednesday 31st July to tell us why they should receive the entire €100,000 proceeds of our 2014 calendar. Charities should email their application to ryanaircharitycalendar@ryanair.com by 5pm GMT."
Registered charities can apply to partner with Ryanair to receive up to €100,000 from the 2014 edition of our cabin crew charity calendar by emailing a short application letter and presentation (in English and of not more than 10 slides) to ryanaircharitycalendar@ryanair.com before 5pm (GMT) on 31st July 2013.

Applicants must include:

1. All information in English
2. A brief background/history of the charity and its work.
3. An outline of what the €100,000 proceeds will be used for
4. Registered charity number
5. Contact details
---