---
25.01.11
Ryanair Presents €100,000 Cabin Crew Charity Calendar Processed to "TAFEL" Charity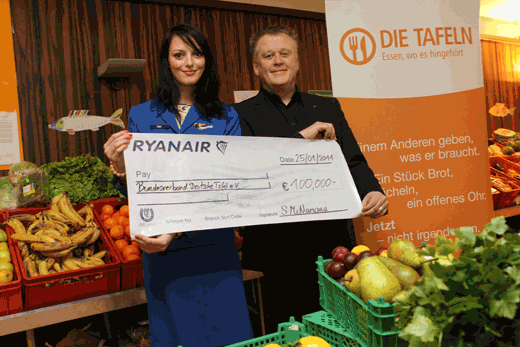 €400,000 raised from charity in just four years
Ryanair, the world's favourite airline, today (25th Jan) presented German charity "TAFEL" with €100,000 from the sale of all 10,000 copies of the Ryanair 2011 Cabin Crew Charity Calendar which sold out in just five weeks.
The "Tafel" charity which provides food to people in need all over Germany (many of them children and teenagers) was chosen by Ryanair's staff council from over 400 charities across Europe to receive the entire €100,000 proceeds from the sale of the 2011 Girls of Ryanair Charity Calendar.
Handing over the cheque for €100,000 Ryanair vowed to defend the right of all girls to take their clothes off if they want to, particularly when it is for charity. Ryanair's bikini clad cabin crew have now raised over €400,000 for charity over the past four years.
Ryanair's Stephen McNamara said:
"In 2011 over 76m passengers will travel all over Europe on Ryanair's lowest fares services and will be taken care of by Europe's most beautiful cabin crew. We are delighted that the efforts of our cabin crew beauties have raised €100,000 for TAFEL and over €400,000 for charity in just four years."
Tafel's Chief Executive, Gerd Häuser, said:
"We are delighted Ryanair's cabin crew chose to partner with Tafel for the 2011 Ryanair Cabin Crew Charity Calendar. Ryanair's 2011 Cabin Crew Calendar donation will help the Tafel deliver even more food to children and those who need it most and we thank everyone at Ryanair on behalf of our 50,000 volunteers who deliver food every day to people in need throughout Germany. "
---