Live the high life!
CABIN CREW CAREERS
Morocco Recruitment (Caeli Hostesses Maroc)
CAELI HÔTESSES MAROC is a company registered in Morocco that has been created to recruit, train and employ cabin crew to operate on Ryanair aircraft in Morocco.
We are currently recruiting cabin crew for Ryanair's Moroccan bases in Marrakech and Fez.
Recruitment Day in Marrakech
Date: Tuesday, the 17th December 2013
Time: 9:00 am
Location: Ryad Mogador Menara and Spa
Address: Avenue Mohamed VI, Marrakech, 40000 Morocco
To register for this recruitment day, please send your CV to: recruitmentmorocco@outlook.com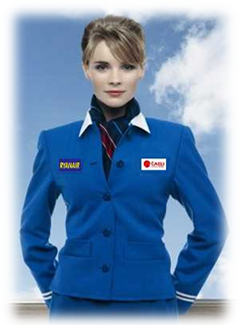 What's on offer?
A 1 year fixed-term contract (renewable) with Caeli Hôtesses Maroc who are contracted to supply cabin crew to operate on Ryanair aircraft.
No planned overnights - Ryanair gets you home to your base every day 'On Time'.
Shifts are 5/2 - 5/3 - 5 days on, 2 days off followed by 5 days on, 3 days off.
Competitive salary
Great promotional opportunities: after 12 months you may be eligible for promotion to a Customer Service Supervisor (Cabin Supervisor), earning more money.
If you require more information or to register for this upcoming recruitment day, please contact us on: recruitmentmorocco@outlook.com