Pilot Recruitment
Fly for the World's Favourite Airline!
Ryanair is Europe's only ultra-low cost airline, operating more than 1,500 flights per day (over 500,000 per year) from 57 bases and 1,500 low fare routes across 28 countries, connecting 178 destinations and operating a fleet of 305 new Boeing 737-800 aircraft. Regulated by the Irish Aviation Authority, Ryanair currently has a team of more than 8,500 people, will carry over 79 million passengers in the current fiscal year (ending 31 Mar 2013) and has an unblemished 28-year safety record.
Storm McGinley are currently recruiting for a limited number of contract Direct Entry Rated/Non Rated Captains positions with Ryanair. Please note we are not accepting applications for experienced First Officers at this time. Due to the large number of applications received, unsuccessful applicants will not be contacted.
Reasons to become a Ryanair Pilot
Outstanding earnings potential.
Roster planned 1 month in advance with a fixed 5 days on and 4 days off in most bases.
Stable Roster – guaranteed days off and no planned overnights.
New modern fleet – Average aircraft age 2.7 years.
Vacancies across our large European base network.
Pilot Profile:
Patrik is a Type Rating Instructor/Type Rating Examiner and a Line Training Captain.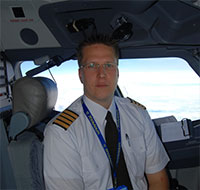 "I joined Ryanair in 2003 as a cadet with a total time of 200 hours. After completing my type rating and line training I moved to our base in Bergamo, Italy. I really enjoyed living in Italy but when the opportunity arose to become a Synthetic Flight Instructor (SFI) at our simulator training center at East Midlands Airport I immediately applied for the position.
I spent 2 years as an SFI before I had the minimum hours to be considered for a command. The command course was hard work but you are really being prepared for your command from day one in a very well structured way. My experience as an SFI also proved a major advantage during the course.
After upgrading and achieving 500 PIC hours on type I applied for a Type Rating Examiner (TRE) position. I am now a Type Rating Instructor/Type Rating Examiner and a Line Training Captain. Even though I'm a TRE I prefer training over checking since it allows me to get more involved with students and teach. Ryanair has a very large Training function with more than 2000 pilots each doing recurrent simulator training and checking every 6 months and we also train hundreds of new crew every year including Cadets and direct entry pilots giving a huge variety of training and checking."
Flight Crew minimum requirements
Requirements for Pilot applications:
You must speak fluent English, posses a current Class One Medical and EU passport without any restrictions (applications are accepted from citizens of the accession countries which joined the EU in 2004).There is no cost for the assessment and there are no additional simulator costs for rated captains.
Current Vacancies:
Direct Entry 737 Rated Captains – Requirements:
At least 3,500 hours total flying time, a minimum of 2,000 hours on a Multi-crew, Multi-engine aircraft weighing in excess of 20,000kg with an established airline, a minimum of 800 hours (Pilot in Command) PIC on a medium Jet aircraft in excess of 20,000kg and a minimum of 500 hours PIC on the B737-300 to 900 series.
If you meet these requirements and would like to register your interest, please apply by clicking on the following link:
http://www.stormmcginley.com/p/h/Home/Job_Details/29/?lang=&lang=&rcv_id=403&fromjoblist=yes
Cadet Recruitment
Due to the addition of new aircraft to the Ryanair fleet over the coming 5 years, cadet pilot recruitment will recommence for a limited number of contract positions from November 2013.
If you hold a JAR/EASA Commercial Pilot Licence (CPL), have completed the theoretical knowledge for the ATPL(A) licence, hold a certificate of satisfactory completion of an MCC course, have a valid multi-engine instrument rating and hold a valid EU passport you can register your interest online at CAE https://pilot.cae.com/Programs/Ryanair.aspx?prog=6).
Please note that Ryanair is an equal opportunities employer. Applications for employment or contract cadet positions can only be made through the channels detailed on this website. Applicants who canvass (by phone, direct contact or through existing employees) will be disqualified. Please note that due to the high volume of assessments, Ryanair operates a policy of not providing reasons or explanations to unsuccessful applicants after assessment.